noticia
In the Kick-off meetings held from 18 to 20 November 2019, some 30 representatives from the six partner universities of the European University of the Seas (SEA-EU) planned the first tasks that will be developed over the next six months in relation to this European university. The event was opened by Francisco Piniella, Rector of the University of Cádiz.
The European University of the Seas (SEA-EU) was selected by the European Commission in the first call of a programme which aims to articulate a model for European universities over the next decade. The project will receive 5 million euros in financial support for its development, with an initial duration of three years.
The meetings were attended by representatives of the six partner universities that are members in the SEA-EU consortium: Cádiz, Spain (coordinator), Western Brittany (France), Kiel (Germany), Gdänsk (Poland), Split (Croatia) and Malta.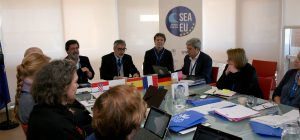 The focus of the work was to plan and develop the six work packages included in the proposal: management of the SEA-EU Project, increasing the level of mutual knowledge and integration between the SEA-EU universities,  strengthening the European identity across the SEA-EU Alliance, supporting European values based on student and staff creativity and engagement, making the quintuple helix a reality and sustainability and dissemination of the project.
During the meeting, the SEA-EU Executive Committee was formally established.
The representatives of the six delegations also visited UCA installations in the Cádiz and Jerez campuses.